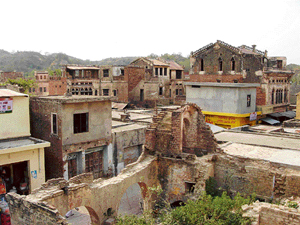 Once a flourishing trade centre at the time of partition, today Jaijon is a ghost town in Hoshiarpur district; most of its former residents have migrated to other areas and many of the houses of the time lying in ruins.
Jaijon is situated on a hill top, on the banks of a brook. None of the residents can remember how the city was established, but there is nostalgia over how big a trade centre it was.  Furthermore, Jaijon was strategically important, the only link between the hilly parts of Punjab and Himachal Pradesh in the past. As such, traders from Jaijon used to supply all manner of goods including food, grain and cloth to Himachal Pradesh, including faraway Manali. The trade brought prosperity to the city. Each house had its own well that in otherwise the water scarce area. The leading business families had large houses with guest rooms for the traders coming from the hilly areas on foot, where they were provided food and water. The biggest house that still exists in the city has about hundred rooms. Even today, one can see the multi-storey houses, planned streets and markets which are a glorious testimony to its past.
Due to changing trade routes and various other factors including improved roads through the hilly areas, the trade started declining around the time of partition of the country. Residents of Jaijon were forced to migrate to other places leading to the slow death of the city. Today, there are ruins everywhere as the once prosperous city turned first to a panchayat, from municipal council, and then to a ghost town with a negligible number of residents. However, it is still popular among tourists for its haunting beauty.
Related posts: